BAND NEWS
2023 FLUTE BAND ASSOCIATION ANNUAL ENTERTAINMENT CONTEST
Band members and supporters had a really enjoyable afternoon on Saturday June 10 in Shorts Sports & Recreation Club, Belfast. Eight bands competed in what Adjudicator Deirdre Harshaw said was a real treat and a feast of music and entertainment.
When the playing was over, three new trophies were presented on behalf of Kellswater, Ballymena Young Conquerors and Ballygowan – the latter from the Kerr family in memory of former Solo G Treble player Brian.
Ballygowan won the Entertainment prize, Best Overall Band and Andrew Douglas won Best Soloist for "Piccaroon" on piccolo. In her comments she said the really difficult of the Band blew her away. Andrew also won the Interpretation trophy as conductor of Ballymena Young Conquerors. Ballylone won the March trophy.
Highest placed Grade One band was Castlegore. Lord Londonderry's Own CLB were the highest placed Grade Two Band - they also won the Percussion prize and Best New Arrangement.
Deirdre paid many more compliments including the amount of double jobbing – especially among the percussionists. She found the range of flutes amazing, and the number of young people who were involved. She also complimented the arrangers and soloists. Pictured below is Andrew with the new soloist trophy. Our thanks go to Maestro Martin Wall for all his encouragement and direction at rehearsals.
Individual results for the day can be seen on our Facebook page,
Many congratulations to Josh Gourley, Jessica Gibson, Scarlett Dowson, Harry Douglas, Matthew Gourley, Rebecca Gourley and George Craig who represented the Band superbly at the 2023 Solos & Small Ensemble Contests in Newtownards in April. Missing from photo are Rebecca Gourley and George Craig.

Congrats to Harry Douglas who, on Saturday evening 25 March 2023 in Campbell College, Belfast, was awarded equal third place at the annual Northern Ireland Young Musician Competition. The standard was arguably the highest it had ever been, and the audience was treated to a superb concert from twelve of the country's best young musical talents. Harry played Hamilton Harty's " In Ireland".
OWN CHOICE CONTEST 2023
After two years away from The Island Centre in Lisburn, the Band retained the trophy with a resounding six point margin. Playing Mark Douglas' arrangement of Thaikovsky's Capriccio Italien, the performance was stunning. Our congratulations and thanks go to our guest conductor Philip Ferguson who collected the Conductor's prize.
Results: Ballygowan 90 points, Ballylone 84 points and Hamilton from Londonderry were third. Ballylone collected the percussion prize while the Piccolo prize went to Ballyclare.
Ballygowan was also named Band of the Year 2022.
The adjudicator was Belfast flautist Aisling Agnew who said it was a real pleasure to have been there, and she had heard the best flute band performances ever. She congratulated the players for their dedication, and added that she had been listening for detail, clarity and balance as well as intonation and tempo while still taking a holistic view.
More photos on our Photos & Trivia page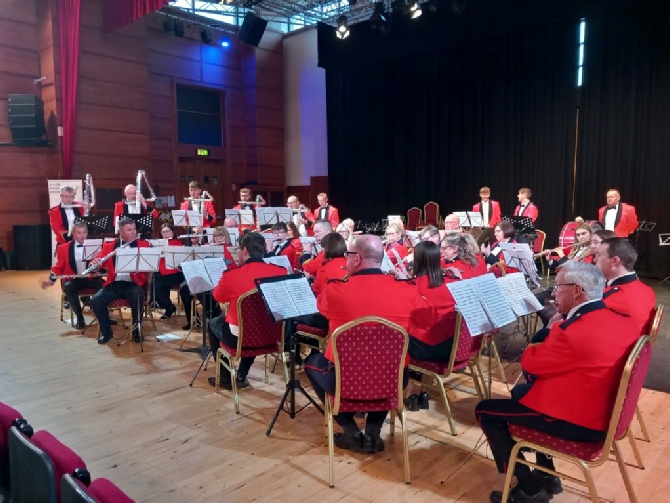 Having lost two years because of Covid lockdown, it was great to be back in the maiden city to support the 2022 Churchill Entertainment Contest, and the organisers expressed the same sentiment.
The adjudicator was William Hill who hails from Ballymoney, studied music in Scotland, spent 35 years in teaching and is still an examiner - William was making a return to this contest.
He said he was thoroughly entertained, loved the music choices and heard some great playing. He advised the Bands to do the basics and do them well, and for the most part, he added, the Bands achieved this. He also commended the very high standard of Bands in the province including pipe and brass, and he complimented the good, well drilled standard of percussion. He concluded by saying that the winning Band had given an outstanding performance from beginning to end.
Ballygowan won first place with Best Percussion and the Best of the Day. The other placings and points were not announced, but will appear here when known.
The Band played the march Royal Salute by Lt. Colonel Richard Waterer, You Can't Stop the Beat (Shaiman), Aranjeux Mon Amour (Rodrigo), Baggy Trousers (Madness) and the finale of the William Overture (Rossini). All the pieces were arranged for flute by Ballygowan's Mark Douglas, and our thanks go to big brother Richard who set aside his flute to prepare us and to conduct us on the day.
The Piccolo prize went to Newtownards CLB, and in the Grade two section, the piccolo, percussion and winners prizes went respectively to Castlegore, Cahard and Orangefield.
2022 has been a great year for the Band, having won all four contests taking all but two of the available prizes.
2022 NIBA CONTEST
Ballygowan regained the World Flute Band title in the Market Theatre in Armagh on Saturday 15 October with a performance that the adjudicator said clearly stood out.
In his opening remarks Paul Norley said he was expecting something special from the championship section; he anticipated that basics like dynamics and tuning would be a given, and he said he wasn't disappointed. After three years of lockdown, he congratulated and thanked all the bands for being there, and he added that the championship bands had a great piece of music to play.
He had believed in advance that interpretation and attention to detail would be the decider; he expected to hear secure performances, and the winning band would lift the music off the page. One band achieved this more than the others, he said, and he awarded Ballygowan 192 points and Ballylone 190 points. Ballygowan also won the Interpretation prize (Conductor Martin Wall), the Piccolo prize (Harry Douglas - the third, and at 17, the youngest, of his family to have his name on this trophy), the Solo Alto prize (James Gourley), the Percussion prize and the Best of the Day trophy.
Ballymena Young Conquerers took third place under the baton of Ballygowan's Andrew Douglas.
The test piece was "The Storm" by Tchaikovsky. It was his first substantial work for orchestra, written during a summer holiday in Ukraine in 1864 when he was 24 years of age. However, Tchaikovsky did not consider his overture worthy of publication, and it was never performed in his lifetime. It was arranged for flutes by Philip Walton.
Our thanks go to our Conductor Martin Wall for his expertise and his diligence in preparing us for this contest.
2022 has been a great year for Ballygowan having already won the Flute Bands Assocation's Own Choice and Entertainment competitions.


The Flute Band Association's 2022 Entertainment Contest,after a two year gap due to the Covid lockdown, was held in Bangor Academy on Saturday 11 June, and Ballygowan enjoyed one of its finest days with a clean sweep of all available prizes.
Our first piece was the march Bond of Friendship which won Best March; it also won the best new arrangement for Mark Douglas. That was followed by Fandango and Aranjeux mon Amour - the latter winning the best soloist prize for Darren Canmore. Then we played You Can't Stop the Beat and the finale of the William Tell Overture featuring Andrew Douglas on G Treble.
Ballygowan also won the Entertainment prize, the Interpretation prize (Conductor Martin Wall), the Percussion prize and the best overall performance.
Castlegore won the highest placed Grade 3 band and Lord Londonderry's Own CLB were the highest placed Grade 2 band. Ballymena Young Conquerors were third with 91 points (conductor Andrew Douglas) and Ballylone finished runners up with 93. Ballygowan were awarded 96 points.
The adjudicator was Keith Anderson and he opened his remarks with a big thank you to the Association for the invitation. He commended the open draw and congratulated all the bands. He said he was listening for togetherness, balance, a good sound and phrasing. He especially advised the percussion not to overpower the flutes, and he had advice for some of the bands to select music within their capabilities.
The Flute Band Association held its 2022 Own Choice Contest on Saturday 02 April in the Memorial Hall, Londonderry, and Ballygowan had a great day; winning First Prize, Best Interpretation (Stephen Cairns), Best Piccolo (Andrew Douglas) and Best of the Day. Andrew also conducted Ballymena.
Ballylone were a close second and Ballymena Young conquerors were third. Ballygowan played Verdi's overture Un Giorno di Regno and Wagner's overture Tannhauser. Also played to delight the audience were Andante Cantabile (Tchaikovsky), El Camino Real (Wiley), Florentiner March (Fucik), Soirées Musicales (Britten), Tocatta (JS Bach), 1812 Overture (Tchaikovsky), Saint Sensational (St. Saens) and Night on the Bare Mountain (Mussorgsky).
Some photos on our photos & trivia page
December tends to be a busy month; we played at the annual Christmas Tree switch-on in Ballygowan on Saturday afternoon 04 December (boy was it a cold sit), and we played on Tuesday evening 07 December in Bell Rotary House in Kings Road, Belfast - this is a protected fold for elderly people, and a large ensemble playing Christmas music was very well received. Also we were invited to Ballygowan Presbyterian Church for their carol service on Sunday 19 December.
Having missed a year due to the pandemic, the World Flute Band Championship took place in The Market Place Theatre, Armagh on Saturday 23 October 2021. Sadly, mainly due to Covid issues, only four bands competed in the Championship section. Ballygowan put in a magnificent performance of the test piece, but the day went to Ballylone - our congratulations go to them.
The test piece was the Polovtsian Dances composed by Alexander Borodin and arranged for flute by Windsor Hylands.
Russian Prince Igor leads his army to face heathen nomads who are ravaging his country. The battle does not go well for Igor, and he is in captivity. However, the Polovtsian King treats him as a guest - no doubt because love has blossomed between his daughter and Igor's son. The music is an unsuccessful attempt to make Igor feel better about his failure to defeat his enemies.
Borodin was a research chemist who composed in his spare time, and he worked on and off on the opera for the best part of twenty years - indeed he died without having finished it. The opera was compiled for the stage (not without contributions of their own) by Rimsky Korsakoff and Alexander Glazunov, and it was first peformed in St. Petersburg in 1890.
The Adjudidator's remarks are on our Scrapbook page.
After a year and a half without banding, we have managed to have several rehearsals outdoors and also indoors with distancing and checking procedures observed in all circumstances.
Our first concert in a long time was in Comber Square on Sunday 15 August 2021. There was a large seated audience, and they all enjoyed the music. Our thanks go to our conductor Martin Hall.
During lockdown our Band participated (remotely) in a cross community project "Musical Traditions" funded by the Ards and North Down Peace IV Partnership.
Click this link to watch, listen and enjoy Ards and North Down Musical Traditions. Where you see two dancers touching, they are siblings.
The other participants are Cleland Memorial Pipe Band, Emerald Elements, Michelle Johnston School of Irish Dance, MacKay School of Irish Dance, Aisling School of Irish Dance, Bangor School of Irish Dance and Ards Comhaltas Ceoltóirí Eirean.
On Saturday 29 February 2020 in the Island Centre in Lisburn, the Band enjoyed a great result at the Flute Band Association's 60th annual Own Choice Contest. This was our 20th success with the first win coming in 1990 – a total not achieved by any other band.
The adjudicator, Manchester born Chris Wermald is a pianist and Horn player. He has 30 years experience playing the French Horn in orchestras and has adjudicated over a hundred national and international competitions.
After saying how pleased he was to have his first opportunity in the province, and how much he had enjoyed the experience, Chris made an appeal that there was now a generation who did not know life without the internet, and he suggested that this should be borne in mind in music choices. Having said that he was delighted to see so many young people in the bands.
He then thanked all the players and supporters, and included the Grade 2 section where he heard some excellent playing and a consistently high standard.
Before handing over his results to the MC, he said that the winner picked itself and he thanked the band for a fabulous performance.
Ballygowan played Marche Slave by Tchaikovsky and Roman Carnival by Berlioz and were placed first with 97 points; Ballylone played Berlioz' Benevuto Cellino and were second on 92 points, and Hamilton from Londonderry finished third with 91 points having played music by Saint Saens – The French Military March and Bacchanale from the opera Samson and Delilah.
It was a clean sweep of prizes for Ballygowan winning the percussion prize, the piccolo prize (Andrew Douglas), the interpretation prize (Martin Wall) and the Best of the Day.
Band members are indebted to our guest conductor, Martin Wall, for his excellent direction; also to Mark Douglas for his very fine arrangements.
Minus a few members plus a guest the Band put up a great show at the 2019 annual Churchill Flute Band Entertainment Contest in Londonderry. Congratulations to the locally based Hamilton band who were placed third by Adjudicator William Hill; and to Ballylone who finished in second place and collected the percussion prize. Ballygowan lifted best piccolo (Andrew Douglas), best performance, best of the day and also the conductor's prize (Martin Wall).
The 2019 World Championship for Flute Bands was held in the Market Place Theatre, Armagh on Saturday 19 October. The test piece was a relatively unknown overture by Berlioz called "Rob Roy". The composer was not happy with his work, never published it, and he was reported to have burned his copy of the score when he returned home from its premier!
The adjudicator was Alan Fernie who hails from Newtongrange in Scotland. He learned to play trombone at school and with his local brass band. He studied music in Glasgow and London and taught music in schools for over 20 years. Alan is a well-known arranger, composer, conductor and adjudicator.
He began his remarks by thanking the Bands Association for inviting him for what was a fascinating and new experience. He said he had been wanting togetherness in the ensembles, and advised players to listen to and support each other in order to knit the various parts together. He said he had heard five excellent bands playing a daunting and tricky piece, referred to it as a mountain to climb and added that the better bands found "space" to meet the technical challenges and make music.
With 94 points, Ballygowan were a close second to Ballylone who were awarded 95 points, and Hamilton from Londonderry was placed third with 89 points. Ballylone also won best piccolo and best solo alto, while Ballygowan won the percussion prize. On the day it was announced that Ballylone's conductor had been awarded the Best Interpretation prize; however this was retracted the following day in Ballygowan's favour - excellent reward to Stephen Cairns for his diligence in drawing the best from the players.
The N.I.B.A. World Flute band Championship is upon us again. The 2019 test piece was arranged by Alex Abbot and is the overture Rob Roy by Berlioz.
Berlioz composed the Rob Roy Overture in Rome in 1831 during the time he spent as winner of the Prix de Rome of 1830, and it was first performed at the Paris Conservatoire on 14 April 1833. The overture was inspired by Sir Walter Scott's novel Rob Roy, but Berlioz was never happy with it, regarding it as long and diffuse - it was also very badly received by the public. He withdrew it after the premiere; never published it and he was reported as saying that he burned the score when he arrived home. He had however sent a copy to the Institut de France.
Hector Berlioz was born on 11 December 1803 near Grenoble in France. His father was a doctor and had a family of six, three of which died in childhood.
Unlike many of the great composers, he was not a child prodigy and had not shown much interest in music until the age of twelve. He was not formally trained in his early years and learned music from books; he played guitar, flute and flageolet but not piano. He was once blown away at a performance of Beethoven's 5th symphony, but in his own turn he was to make a massive contribution to the classical scene, influencing people like Wagner, Lizst, Mahler, Richard Strauss and Rimsky-Korsakov. He also worked towards a bigger sound and often conducted 1,000 strong orchestras.


We gave a concert in Botanic Gardens, Belfast on Sunday 11 August 2019. There was some competition on account of the festival going on in the park, but an appreciative audience built up as we played. Our thanks again to Martin Wall for conducting us (and for putting up with the breeze!)
On Sunday 23 June we helped Comber Silver Band to celebrate their 70th anniversary. It was a great family & friends occasion in Lower Crescent, Comber. Ballygowan played first, followed by Comber Silver and then by The Band of the Royal Irish Regiment. The finale was the combined Comber Silver and the R.I.R.
A very large crowd enjoyed an absolute feast of music.
The Flute Band Association of Northern Ireland held its 3rd Entertainment Contest in Newtownards on Saturday 01 June 2019. Ballygowan won Best March for the third year running,, the Percussion Prize, Best New Arrangement (Mark Douglas) and Best Band. The real winners of the day were the fans in the audience - this contest just goes from strength to strength.
Congratulations to Ballylone in second place, to Kellswater in third, and to Ballywalter who won the Enterprize Prize. Ballylone also won the interpretation prize (Philip Walton).
The programme for our performance was Gibraltar March, The girl I Left Behind Me, Theme from Band of Brothers, Piccaroon, featuring Andrew Douglas on piccolo, You Can't Stop the Beat and finishing with The Waltonian March.
Many thanks to Martin Wall for conducting us today and all his hard work at rehearsals - very much appreciated by all.



On Friday 24th May we are played in a joint free-to-enter concert with the Lenoir Rhyne Choir from North Carolina. The concert was held in St. George's Church, High Street, Belfast.
Net proceeds to the children's charity "Tiny Life".
By invitation, members of the Band led the Praise in the morning service in Comber Non-Subscribing Church on 19th May.
The Band was well represented and well received in Lord & Lady Dixon Park on Sunday 12th May.
Many congratulations to our young participants in the Flute Band Association's 2019 Solos & Small Ensembles Contest - details and photo on our Young Generations page.
We held our AGM on Tuesday 12 March. The various reports showed that the Band is in good fettle. We are current holders of both the World Championship and the Own Choice Contest, and we finished second to Ballylone (and that's no shame) in the two entertainment contests in Newtownards and Londonderry. We also played in several concerts including a BBC radio broadcast and a very successful evening jointly with First Old Boys Silver Band. We've had major improvements in our Bandroom with the aid of a lottery grant, and we have some money in the bank. Little had changed in the election of officers - all in all it, it was felt best to leave well enough alone! Much thanks must go to our supporters for their constant support - including financial.
Ballygowan won a thrilling contest on Saturday 23 February 2019 in The Island Civic Centre, Lisburn – organised by the Flute Band Association of Northern Ireland. The standard of musicianship was excellent in every performance, as was the choice of test pieces.
The adjudicator was Steve Sykes who has been associated with brass bands, symphonic bands and orchestras for many years, and he has played and adjudicated across Europe and in America.
He thanked all the musicians in the Championship section for their great music, adding that he thoroughly enjoyed listening to them, and that each of the bands "knocked spots off" their test piece.
All the pieces included dramatic music, he said, and the only mild criticism was that he thought there was potential for some of the bands to have done more with effects and dynamics. Having said this, he then said that he was knocked out by the top two bands, separated only by the fact that "one of them had more elegance in certain places".
Ballygowan won the day with 95 points having played Capriccio Espagnol by Rimsky-Korsakov, and Ballylone were a close second with 94 points for their performance of the Tchaikovsky's 1812 overture. Ballylone won the percussion prize, while Ballygowan won the piccolo prize (Andrew Douglas), the interpretation prize (Conductor Stephen Cairns) and the Best Band of the Day. Hamilton from Londonderry were placed third with 92 points.
The other test pieces chosen were March of the Trolls by Grieg, Night on a Bare Mountain by Mussorgsky, Sicialian Vespers by Verdi, Tannhauser Overture by Wagner. Ballygowan's Mark Douglas had arranged five of the day's test pieces – an excellent tribute to one of the best arrangers around (photo on Photos & Trivia page; Adjudicator's remarks are on our Scrapbook page).
It has since been realised that the occasion was a bit special because this was a record 19th win in the 59th year of the Own Choice Competition (originally introduced as an entertainment contest), passing Ballyclare's 2006 18th win .
For the second year running we travelled to the maiden city for Churchill's 2018 Entertainment Contest. Twelve bands competed over three sections; we finished second in Grade 1 and Andrew Douglas won the piccolo prize - his performance of Piccaroon was outstanding.. Ballylone took the main prize and the percussion prize, Ballymena finished third under the baton of the above mentioned Andrew Douglas - congrats to them, to the organising committee and to all the bands for a great day out.
The 2018 World Flute Band Championship was held in Armagh on 13 October. The test piece was an original composition by Dr. Windsor Hylands - Themes and Variations for Flute Orchestra, and Ballygowan had a great day taking first prize plus the percussion prize and the Interpretation prize. The adjudicator's remarks and photos are on our Scrapbook and Photos & Trivia pages. On the day,Sandy Hay said that he had had a lovely day and a great day's music making. In the Championship Flute section he commented that the test piece was technically challenging – a set of studies even, and basically it was a blank canvas which invited artistic licence. He expected the bands to do the best possible to overcome the technical challenges and to bring the music to life. There were cadenzas for piccolo, solo G treble, solo concert, solo alto and solo C bass, and he commended how well they were played. He also advised that the chorales were best handled subtly rather than letting vibrato get in the way of the music, but to find continuity with tempo. Having said that, he concluded that some of the interpretations were great.
Congratulations to Ballymena Young Conquerors who were placed third with 92 points, and to Ballylone who finished second with 93 points winning the piccolo and Solo Alto prizes. Ballygowan had 94 points.
All three bands receive a broadcast on Radio Ulster's "Strike up the Bands" – something Ballygowan have now qualified for in each of the last thirty-one years.
We owe a great deal of appreciation to our conductor Stephen Cairns whose dedication to his task brought out the best of the players on the day.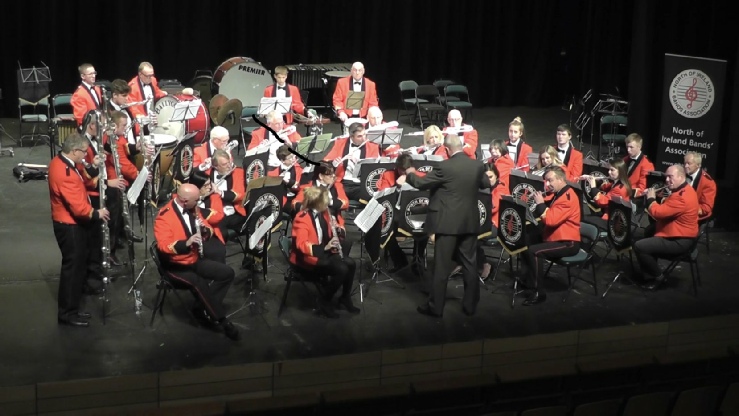 The Band enjoyed playing to an appreciative audience in Lord & Lady Dixon Park, Belfast on Sunday 19 August.
The 2018 12th in Newcastle proved to be a great day with great weather in a great venue. In the centre of the picture are two of the youngest members - percussionists Matt Gourley and Sam Robinson.
On Friday 15 June we held a Joint Champions Concert with First Old Boys Silver Band in Ballygowan Presbyterian Church Hall. The two bands won their respective championship section of the 2017 Northern Ireland Band's Association Championship of Ireland Bands' Contest, and both bands have been very successful in the contest arena over quite some years.
It was a superb evening's entertainment with both Bands putting on a most enjoyable performance to a full house - conducted by Stephen Cairns. We owe a special thanks to 1st Old Boys for coming up with the idea, which we hope will be replicated in the future.
Photos on our Photos & Trivia page.
2018 FBA ENTERTAINMENT CONTEST
The Flute Band Association of Northern Ireland held their second Entertainment Contest on 02 June 2018 in the Queens Hall, Newtownards. It was a repeat of last year, in that it was a wonderful day of musical entertainment with 48 different pieces of music from nine bands.
The adjudicator was Gary Proctor, and he said he had a fantastic day with some eye opening performances, with superb arrangements and programme choices. Gary added that the standard was really high, and he congratulated the committee for a fantastic day.
He did not labour his reasons for his awarding of points, preferring instead to state that every band had something special to give.
Ballygowan won the March and the Percussion prize, and Ballylone's conductor Phillip Walton won the Interpretation prize. Ballylone had a great day altogether – also winning the Best New Arrangement (by Band member Alan Trimble), the Best Soloist in Gillian Burrows, the Entertainment prize and the Best Overall Performance. Newtownards C.L.B. were third behind Ballygowan. C.L.B. was also the best Grade 2 Band, and Castlegore the best Grade 3 Band.
On Saturday 21 April 2018, our younger players had a great day at the annual Solos and Small Ensembles Contest organised by the Northern Ireland Flute Band Association - more detail on our Young Generation page.
A social evening 'Come and Play' where flute bands got together in a non-competitive atmosphere was held at the Discover Ulster-Scots Centre, Belfast on Thursday 12th April. Hosted by the Flute Band Association of Northern Ireland in conjunction with the Ulster-Scots Community Network (USCN) the flute band ensemble was conducted by Richard Douglas MBE and played a great selection of tunes including a WWI medley with the well-known tunes, 'Keep the home fires burning', We'll meet again', 'Bless them all' and 'It's a long way to Tipperary'. Bands represented in the ensemble included: Ballylone Concert Flute Band, Ballygowan Concert Flute Band, Lord Londonderry's Own CLB Flute Band (Newtownards), Ballyclare High School, Castlegore Amateur Flute Band, Ballymena & Harryville Young Conquerors Flute Band, Ballyclare Victoria Flute Band, Ballywalter Flute Band and Orangefield Flute Band.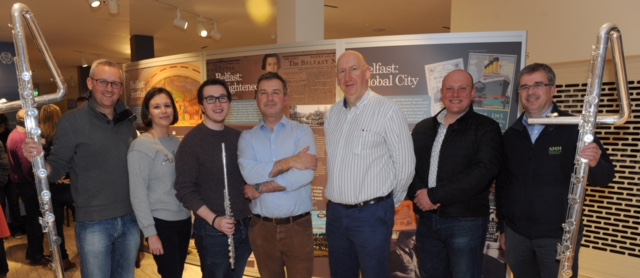 Pictured are Stephen Carse, Victoria Gibson, Andrew Douglas, Richard Douglas, Robert McMurray, Darren Canmore, Mark Douglas
On Tuesday 27 February 2018 the Band accepted an invitation to a reception from Ards and North Down Borough Council. Members were given a fascinating insight into the history of Bangor Castle and Council, followed by a warm welcome from Mayor Robert Adair. After refreshments, Mayor Robert showed a great interest in the history of Ballygowan Flute Band and its membership, before presenting a commemorative plaque to our Chairman Stephen Carse. The trophy on the Council Chamber table is the World Flute Band Championship Cup, which the Ballygowan won for the 13th time in 27 years in October 2017.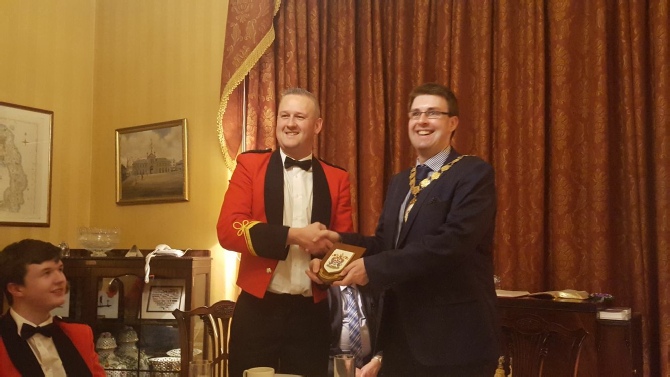 The Flute Band Association's 2018 Own Choice Contest was held on Saturday 24 February in the Island Civic Centre, Lisburn.
The adjudicator was Derek Broadbent who had officiated at a Flute Band World Championship in the 1970s. He did not go into any detail of what he had been looking for, but had looked forward to hearing the various test pieces. The bands proved to him that flutes could make music, and it had been a delight to sit and listen to the performances. He added that the bands played with rhythm and style, and some performances thrilled him to the core. Ballylone claimed most of the prizes with 190 points, with Ballygowan close on their heels with 189. Congratulations to Ballylone and to Ballygowan's Andrew Douglas on lifting the piccolo prize. We are also indebted to Martin Wall who prepared us for the contest and led us on the day - it was a delight to work under his baton.
There is great pride in the Band on learning that Richard Douglas has been awarded the MBE in the military division of the 2018 New Years Honours List. He is pictured with Captain Fergal O'Carroll of the Irish Army Band (right).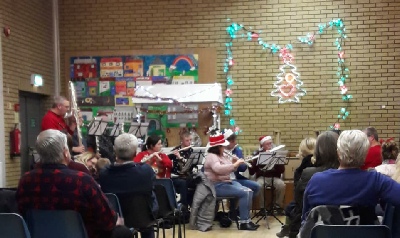 We fulfilled our longest standing concert engagement on the Friday evening of 08 December 2017 when we played in the Ballygowan Community Centre. A mixture of Marches, popular music and carols was very well received.
We gladly accepted an offer to hold an open rehearsal in the Ulster Scots premises in Gordon Street, Belfast on the evening of Tuesday 28 November. We enjoyed our rehearsal immensely, and we thank the staff for the invitation and for their hospitality.
Players and supporters travelled to Londonderry on Saturday 18 December 2017 to play in the Churchill Flute Band Entertainment contest. We were awarded Best Band and Best Percussion. Congratulations to Hunter Moore for winning the Entertainment prize and to Ballylone who were awarded runner-up plus the Best Piccolo. Our programme was the Gibraltar march, Russian Sailors Dance, Tico Tico (soloist Darren Canmore), Autumn Leaves, Irish Washer Woman and the Klezmer Karnival. We received a very warm welcome, and a great, if long, day was enjoyed by all. Ballygowan also won the Best Band of the Day accolade.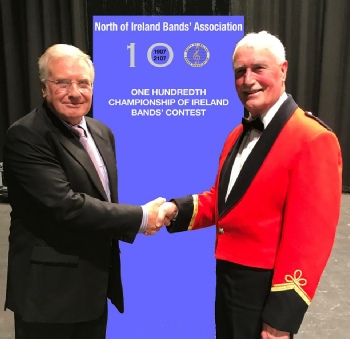 Ballygowan Concert Flute Band had a great day in the Market Theatre in Armagh on Saturday 21st October 2017 on the occasion of the Northern Ireland Bands' Association's 100th Championship of Ireland (including the Championship of the World for Flute Bands).
It was a great time for Ballygowan to lift their 13th top prize, because the Band's first win in 1990 was with the very same test piece – the overture to Richard Wagner's opera Tannhauser.
The adjudicator was Dr. Geoffrey Spratt who was a professional flute and viola player with a wide experience of conducting choral, operatic and orchestral works. His last full time post was Director of the Cork School of Music, and he is currently the External Examiner for the full time courses of Dublin's Royal Irish Academy.
He began by admitting to being overwhelmed to have been asked to adjudicate at the Championship's centenary, and he congratulated the organisers for what for them had to be a very proud day. Then he stated what he had been looking for: good ensemble, good intonation, good tone quality with character, and well blended sections. He congratulated the arranger Mark Douglas (knowing his Band would be playing, but not which one), and added he (Mark) had to have a masochistic bent against Treble G and piccolo players – referring to the degree of difficulty in certain passages of the overture, and he added that the test piece was a real challenge for the Bands.
He then went into quite a bit of detail; for example he pointed out that Wagner had not written the overture for flute bands, so interpretation was very important including the need to recognise that the German verb comes at the end of a sentence! He also did not want difficult passages to be slowed down in order to fit in all the notes.
Most unusually for a band contest, he had been unable to separate four bands for the third place. This leaves a headache for the Association because third place guarantees a recording on BBC Radio Ulster's "Strike up the Band". By finishing in the places, Ballygowan earned their 30th successive radio broadcast.
The 3rd place Bands on 88 points were Ballyclare Victoria, Ballymena Young Conquerors, Hamilton (Londonderry) and Hunter Moore (Newry). Ballylone were runners up on 91 points with Ballygowan awarded 92 points. The prizes were well shared out; Ballylone won best piccolo, Ballymena won best percussion, Ballyclare won best alto flute - Ballygowan won Best of the Day. The interpretation prize went to Ballygowan's conductor Stephen Cairns, and with it goes our grateful thanks and congratulations for his diligence and perseverance. Stephen did the double this year as he led 1st Old Boys to victory the previous Saturday.
Pictured with the adjudicator Geoffrey Spratt is John Douglas who was one of 15 members who also played in that 1990 contest. (Adjudicator's remarks are on our Scrapbook page.)
What a great day we had on Black Saturday 26 August 2017 in Comber! The weather was great, the Band was playing really well, and the lucky ones made their way to John's back garden for a BBQ & a while's craic!
On Saturday 19.08.17 a large ensemble fulfilled an engagement at Heron's Farm near Raffrey on behalf of Action Cancer. We were well received and well looked after.
Well, the 12th has come and gone once more, and what a great day it was. Just one photo on our Photos & Trivia page.
The test piece for the 2017 World Flute Band Championship is now known. On 21 October we will be playing the overture to Wagner's opera Tannhauser. This will bring back many happy memories, because we won our first world championship in 1990 with this very piece!

Richard Wagner was born in Brühl, near Leipzig in Germany on 22 May 1813. His father died of typhus when he was only six months old and his mother subsequently remarried and they moved to Dresden. Sadly, his step-father died when he was eight years old, and they moved back to Leipzig where he received his first formal musical training. He later studied music at the University of Leipzig. From an early age he had been hooked on theatre and he harboured a desire to follow this career path. It was probably not surprising therefore that he became an opera composer, known especially for his rich harmonies, and unusually for an opera composer, he was his own librettist. He is also credited with being the first to face the orchestra while conducting.
His best known works are The Flying Dutchman, Tannhäuser, Der Ring des Nibelungen and Die Meistersinger von Nürnberg. He also (with financial support from King Ludwig II) had his own opera house built, the Bayreuth Festspielhaus, which has been a Mecca for opera lovers ever since.
In his personal life Wagner had his problems: his personality, money shortage, outspoken views on music - his political views almost cost him his life. He died on 13 February 1883, leaving the world, in musical terms, a much richer place.

Tannhäuser
In the opera Tannhäuser, he (Tannhäuser) has sold his soul to live in sin with the goddess of love, but his conscience is troubling him. Venus tries to talk him out of going back to the mortal side, but eventually she gives up and tells him to sling his hook. Tannhäuser is well received by his contemporaries (and especially by his first love, Elizabeth) until he lets slip where he has been. As far as their beliefs are concerned, he is doomed to the devil's flames. Tannhäuser however holds on his own belief that eternal salvation is there for all who genuinely repent. He was on the verge of returning to the goddess and accepting eternal damnation, when Elizabeth's prayers for his soul were answered.
FLUTE BAND ASSOCIATION 2017 ENTERTAINMENT CONTEST
Ballygowan Concert Flute Band had an excellent day out in Newtownards on Saturday 03 June 2017 at the FBA's Entertainment Competition, winning Best March, Best Soloist, Best Interpretation and Best Performance.
This was a new venture for the Flute Band Association and it was held in the Queens Hall. With a good entry, a large audience, and a fabulous afternoon of music, it is fairly well guaranteed to become an annual event.
The adjudicators were Billy Hill for Performance, and Deirdre Harshaw for Entertainment.
Deirdre began her remarks by stating what a lovely way to have spent her Saturday afternoon. She had a few questions prepared for herself - would I want to know more about this music genre, would I want to come back, would I want to bring family and friends? She answered "yes" to her own questions. She was most impressed with the range of music on show, which she described as up to date, exciting and fun.
Billy said that he had a very enjoyable afternoon, and that he had had a very difficult job. He said he had been looking for correct notes, timing, balance, phrasing, starting together and breathing together, and added that all the soloists were really good. He went on to compliment the arrangers, saying that brass bands could simply go out and buy their music, but flute bands had to arrange their own – he singled out Ballygowan's Mark Douglas and wondered if he did anything else in life except arranging! He also said that he was impressed with the age range in the bands, and that Northern Ireland had a unique heritage in its band world. Billy also had a good word on the conductors and what they were expected to add to the notes!
Prizes and certificates were awarded as follows:
Ballylone won the Entertainment prize with a delightful programme, and they won Best Percussion as well. They also won the New Arrangement prize with their "All about the Bass".
Ballygowan won Best March, Best Soloist (Darren Canmore), Best Interpretation (Stephen Cairns) and Best Performance.
Newtownards CLB were placed third with Ballylone finishing second.
Our thanks again go to our Conductor Stephen Cairns for his expertise and diligence in preparing us for this competition.
Band members, families and friends travelled to Troon on the weekend of May 12-14. The Band was placed second in both March and Performance in the Scottish Amateur Flute Bands Association's Spring Contest. A good time was had by all - see our Young Generation and Photos & Trivia pages for photos.
The programme must include a March, which is judged separately, and one or more test pieces. Ballygowan played the Florentine March by Fucik, Autumn Leaves and Night on a Bare Mountain by Mussorsky. A thirty-strong Band put on a great show, which was very well received by the audience.
The adjudicator was Gareth McLearnon, an experienced and renowned flute player, adjudicating his first flute band contest. He explained his scoring technique which was based on eight categories including the various flute types from piccolo to contra bass, ensemble playing, tuning and intonation, dynamics and percussion. He advised players to work on quiet and loud playing; also to work hard on slow music, while maintaining rhythm and clarity.
The outcome for Ballygowan was second place in both competitions, and our congratulations go to Carluke Primrose
Congratulations to Harry Douglas for winning the Under-13 G Treble Solo at the 2017 Flute Band Association Solos & Small Ensemble Competition .He also finished runner up in the Under-13 Concert Solo - repeating last year's result, and he finished second in the Under-16 Concert section. Proud of you, Harry! Go to our Young Generation page for a photo.
The Band enjoyed a fine win on Saturday in the Championship section of the 2017 Flute Band Association's Annual Own Choice Contest in the Island Centre, Lisburn.
The adjudicator was Brian Agus. It was his first time adjudicating at this contest, but he is no stranger to many musicians and singers across the province as he spent 25 years on the General Musicianship Staff at the City of Belfast School of Music, before becoming Director of Musical Services at the South-Eastern Education Board where he served eleven years.
A large and appreciative audience enjoyed listening to the adjudicator's comments, because he went into much more detail than any before him. His opening remark was "What a wonderful concert, Wow!" He complimented the very sophisticated arrangements, and congratulated all the players, conductors and arrangers. "I salute you all wherever you are" were his exact words.
He then outlined what he had been looking for – good solo playing (which he said was, at times, breath-taking), good ensemble playing, good dynamics, mood/atmosphere/drama, and assured confident virtuoso playing. He recommended good choice of test pieces, which will demonstrate lots of technical ability, tuning, legato versus staccato, phrasing, percussion, good control of tempo changes and internal balance between melody, bass and harmonies. He really gave the audience an appreciation of what a top performance had to have. He even added his scoring system: a performance with 90 points or more had for him the "wow factor".
Ballyclare Victoria were awarded third place with 88 points and Best Piccolo; Ballylone finished second with 90 points and Best Percussion; Ballygowan won the contest with 92 points and Best Interpretation. Our sinc.re thanks go once again to our Musical Director Stephen Cairns for his expertise and diligence.
Test pieces included Mussorsky's Night on a Bare Mountain and Tchaikovsky's Marche Slave (Ballygowan), Tchaikovsky's Capricio Italien (Ballylone), Verdi's Sicilian Vespers (Ballyclare), Smetena's Vltava (Newtownards CLB) and Dvorak's In a Nature's Realm (Hamilton).
Can we appeal to any Band who have any traditional band bags which they no longer need to get in touch with us via our CONTACT US page.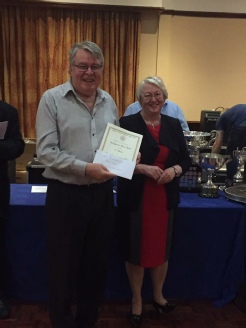 John Dawson picking up second prize at the annual dinner in the Dunsilly Hotel for our recent performance in the 2016 senior flute section at the N.I.B.A. championships. The evening was made all the more enjoyable with the company of the four representatives from the Ardee Concert Band.


The 2016 NIBA World Flute Band Championship was held in The Market Place Theatre, Armagh on 15 October, and Ballygowan was pipped at the post for the second year running. Adjudicator Steve Sykes thanked all the players and conductors for a great day. He said the overture was a virtuoso piece in every sense of the word, and it was a difficult test. He especially complimented two bands for their real virtuoso performances The top prize and our congratulations went to Ballylone, and we thank Stephen Cairns for preparing us so well for what was a very difficult overture.
Next year's contest will strike a chord - it will be the 100th!
The concert in Comber Square, which was rained off in June, was re-arranged for Sunday 21 August 2016, and was well received by a good number of people.
The test piece for the 2016 Championship has been released, and it's the overture to Benvenuto Cellini, which is an opera in two acts with music by Hector Berlioz. It was the first of Berlioz's operas, premiered in 1838. Although largely fictional, the story was inspired by the memoirs of the Florentine sculptor Benvenuto Cellini. While the opera is rarely performed nowadays, the overture is often played by symphony orchestras – and indeed it was chosen as the Championship Flute test piece in the 1970s (the 2013 Championship Flute test piece Roman Carnival was also composed from material in the opera.)
Hector Berlioz was born on 11 December 1803 near Grenoble in France. His father was a doctor and had a family of six, three of which sadly did not reach adulthood.
Unlike many of the great composers, he had not been a child prodigy, and had not shown much interest in music until he was twelve. He was not formally trained in his early years, and learned music from books; he played guitar and flute and flageolet but not piano.
He was once blown away at a performance of Beethoven's 5th symphony, but in his own turn he was to make a massive contribution to the classical scene, influencing people like Wagner, Lizst, Mahler, Richard Strauss and Rimsky-Korsakov. He also worked towards a bigger sound and often conducted 1,000 strong orchestras.
Initially he started to study medicine but had no interest in anything other than music. He regularly read through scores in the Conservatoire, and by twenty years of age, was a keen writer and composer. In spite of his father's advice, he abandoned medical studies and studied music privately under Lesueur. In 1826 he started attending the Conservatoire. Here he won the Prix de Rome at his fourth attempt; this gave him much needed income, with a commitment to study in Rome – something he did not particularly enjoy.
He was to become a well respected and well travelled conductor although, strangely, he never held a permanent post. He was also a successful writer and critic - while he enjoyed this work, he would rather have been composing, but it was a welcome source of income.
His best known work was his Symphonie Fantastique which he finished in 1830 – believed by many to be the best first symphony of all time, it is apparently autobiographical. Franz Lizst later transcribed it for piano so more people could hear it.
Generally, in his own country he found success and recognition hard to come by; indeed, in his life time, he received much more criticism than praise from French commentators. No doubt this caused him to say on his deathbed "At last, they are going to play my music". He died on 08 March 1869.
The 12th 2016 was a good day enjoyed by everyone. Congratulations to the Comber lodges for arranging a great parade; thanks also to Translink who overcame a bus issue & got us home. Photo on our Photos & Trivia page.
Congratulations to Andy, Harry and Rebecca for their performances at the 2016 Solos & Quartets - more on our Young Generations page.
On Friday 15 April 2016, the Band played at the Lindsay Chorale's 20th Annual Concert in Second Saintfield Presbyterian Church Hall. The Chorale opened the concert with several songs followed by a number of pieces by the Band, after which both combinations performed again. It was very enjoyable music which was well received by a capacity crowd.
Report on 2016 Flute Band Association Own Choice Contest
The 2016 Flute Band Association annual Own Choice Contest took place in the Island Centre, Lisburn on Saturday 27 February. The Adjudicator was Donald Finlayson, a music graduate from Scotland, and a flute and piccolo specialist. In his remarks, he commented about the incredible day he had just had, and that he would love flute students at Glasgow Conservatory to come to Northern Ireland to hear the standard of flute playing here. He used the term mind-blowing several times and encouraged the Bands to continue participating in events and contests.
He had a good word to say about each of the Championship Bands; he complimented the Solo G-Treble player of Newtownards CLB, awarding them Best Piccolo, Best Percussion and third place. The adjudicator then made a plea to the Association to present trophies for the Alto and Bass players. In the case of the two top Bands, he said he constantly had to pinch himself that he was not listening to a professional orchestra! He then awarded Ballylone second place, and first prize went to Ballygowan – whose conductor Chris Attrill won the interpretation Prize - we wish to express our gratitude to Chris for preparing us for the winning performance. Ballygowan were also presented with a Trevor James concert flute. - Richard Douglas receives it from John Seabrook (Photos & Trivia page)
He closed by thanking the Band players and Organisation for a fantastic day. Test pieces on the day included Verdi's Sicilian Vespers, Glinka's Rusland and Ludmilla, Kosma's Autumn Leaves, Rossini's Soirees Musicales, Dukas' Sorcerers Apprentice, Tchaikovsky's Capriccio Italien and a selection from Beethoven symphonies. Adjudicator's remarks
Click to listen to the performance (also, there are some photos on our Facebook page)
The Band completed in the World Flute Band Championship on 24 October 2015 in Armagh and finished second with an excellent musical performance. Congratulations to Ballylone for winning the day, and to Hunter Moore for finishing third. Also a big thank you to Stephen Cairns for his hard work at rehearsals and for conducting us.
Marche Militaire Francaise:
Bacchanale:
Some of our members participated in the Big Flute Challenge in the Whitla Hall, Belfast on 26 September 2015. This was the second year of the event which raises money for Marie Curie and the Children's Hospice charities. Special guests this year were Sir James and Lady Galway. It's fair to say that the day was enjoyed by everyone with good music and craic - click here for photos
The Band had a very good turn-out at the Royal Black Preceptory Parade on Saturday 29 August 2015 n Kilkeel - including the walking wounded (which demonstrated commitment!) It was a long day from an early breakfast to the dismissal command, but the guys & gals kept playing to a very high standard.
No rest for the wicked, though, as we were back in action the next day giving a concert in Conway Square, Newtownards. The event was well attended and the music was very well received (hopefully photos will follow soon).

Now it's noses to the music stands to rehearse for this year's World Championship. The test pieces this year are both by Saint-Saens, and both arranged by David Heaney - Marche Militaire Française and Bacchanale.
Marche Militaire Française is the 4th and final movement of Saint-Saens' Algerian Suite, which he entitled "Picturesque Impressions of a Voyage to Algeria." The third movement is about an impressive military fortress near Algiers, so a march must have seemed a natural conclusion to the suite - which was premiered in December 1880.
Bacchanale, loosely translated as a wild party, is from Saint-Saens' opera "Samson and Delilah". In Scene One Samson had given in to his temptress and let slip that his hair was the key to his strength. In Scene Two, the singing of the priests and priestesses broke into a wild bacchanal. While Samson, blind and shackled, was being taunted by the Philistines, he asked the boy to lead him to the two main pillars of the temple, which he pulled down, killing all present.
Camille Saint-Saens was born in Paris on 09 October 1835 and enjoyed a long life. He was a musical prodigy and made his concert debut at the age of ten. He studied at the Paris Conservatoire before spending 20 years as a church organist. He then became a much sought after pianist, organist and composer, and travelled widely. He also spent 5 years in a teaching post and had Fauré and Ravel as students. He was a prolific composer, including opera, but is probably best known for The Carnival of the Animals, Danse Macabre and his Organ Synphony.
BALLYGOWAN COMPLETE A TREBLE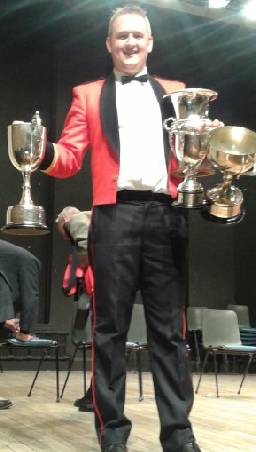 A large contingent of players and supporters travelled to Troon at the weekend of 15-17 May 2015 to compete in Annual Spring Contest of the Scottish Amateur Flute Association, and enjoyed a fabulous concert including music by Verdi, Saen-Seans, Bernstein, Mascagni, Rossini, Sousa, Von Suppé, Elgar, Shostakovich, Strauss and Thaikovsky.
The adjudicator, John Grant, started his musical life in a flute band in Scotland before studying for his RSAM. He played for the Halle Orchestra and was principal flute with the Scottish National Orchestra. He proved to be a man of few words stating that his approach to flute playing was to listen to the musicianship. He also said that every instrument has its limitations, and the best musicians forget these limitations.
Glasgow Amateurs were placed third in both the Open March and the Graded Section. Their musical director was Ballygowan Piccolo player Andrew Douglas, who is studying music at Glasgow Conservatory. Carluke Primrose were placed second in both March and Performance. Ballygowan won both sections and also the trophy for the highest aggregate score and Andrew Douglas won the piccolo prize.
Band Chairman Stephen Carse collected the four trophies, which added to those won in the World Flute Band Championship in October, and the NI Flute Band Association Own Choice Contest in February.
Once again we are indebted to Stephen Cairns for preparing us for this contest.
Congratulations to Sarah Bass who was unable to travel with the Band due to the imminent birth of her little girl - 6lb 6oz (Sunday)
Congratulions to 9-year old Harry Douglas on winning the Under-10 section of the 2015 Flute Band Association's Solos & Small Ensemble Contest. Harry joins an illustrious group of Ballygowan flute players past and present, who won this trophy in the past; he also finished third in the Under-13 section (photo on our Young Generation page).
Ballygowan won a thrilling Flute Band Association Own Choice Contest in The Island Civic Centre, Lisburn on Saturday 28 February 2015. After the excellent playing of Marche Slave (Thaikovsky) and I Vespre Siciliani (Verdi), Ballylone apparently gave the adjudicator a headache with their equally excellent performance of Fire in the Blood (Lovatt-Cooper). Ballygowan's latest success continued an amazing sequence in this competition, which they have now either won or finished runner up 16 years in a row.
Other test pieces for the entertainment of those present were Rodeo (Copland), Night on a Bare Mountain (Mussorgsky), Festival Overture (Shostakovich), Norwegian Rhapsody (Svendsen), Der Freischutz (von Weber), Poet & Peasant (Suppé), Puszta (Van der Roost), English Folk Songs Suite (Vaughan-Williams).
Ballygowan won with 99 points, Ballylone had 98 and third placed Ballyclare had 97.
Ballygowan also won the Band of the Day, and a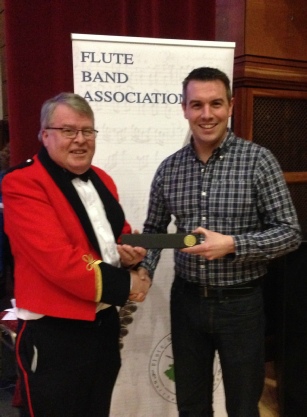 for a concert flute presented by Gareth McLearnon on behalf of the American flute company Haynes.
The adjudicator was Sandy Hay who is Head of Woodwind at Birmingham Music Service. He has a long association with flute groups, and is no stranger to Northern Ireland Banding – having adjudicated here on three previous occasions. His opening remarks were that his task this time was by far the most difficult, because he had to take into consideration the own choice aspect and the relative difficulties associated with each test piece. He also challenged the bands to be daring in their choice of music.
Once again we are indebted to our guest conductor Stephen Cairns for musical know-how and his commitment and diligence.
Adjudicator's remarks on our Members page
A good sized ensemble played in Comber Rifle Club for the local Masons on Friday 09 January 2015, and the wide variety of music was well appreciated.
December was busier than most end of years with concerts for the Ballygowan Community Association, Comber Horticultural Society, busking in Victoria Square (Belfast - some photos in our photos page), and a Candle-lit service in Ballygowan Presbyterian Church. Also our second 2014 radio recording was broadcast in mid-December.
Ballygowan retained the World Flute Band title in The Market Theatre, Armagh on Saturday 11 October 2014, and in so doing, became the first band in 30 years to win for four successive years. A new trophy was presented to the Association by Alex Abbot (the arranger of the test pieces) for Solo Alto. Alex is well known in the flute world and, in awarding the trophy, he said that the development of bass flutes had brought this instrument's part into the limelight. Ballygowan won this inaugural cup along with Best Piccolo, Best Percussion and Best Interpretation. The winning margin for the title itself was five points, and we'd like to express out thanks and appreciation to our guest conductor Stephen Cairns for his services and attention to detail in the weeks leading up to the contest. We are also delighted for him that he retained his Interpretation prize. Ballylone finished runners up, and Ballymena Young Conquerors were third. (Photos on our Photos & Trivia page)

There were three test pieces for the 2014 NIBA World Flute Band Championship – two selected from Beethoven's seventh symphony, plus Verdi's overture "Un Giorno di Regno".
The adjudicator Mike Smith began his comments by thanking the bands, stating how much he had enjoyed the performances. He said that the Beethoven pieces were taxing and the overture was challenging. He did find a lack of perfection in all the bands, but concluded that Ballygowan's was a very polished performance.
Ludwig van Beethoven was born in 1770 in Bonn, Germany and had a tough enough upbringing since his father, rather too fond of his drink, often pushed the boy harder than would put many a child off music. In spite of this, the young Beethoven was to become one of the greatest classical composers the world has ever known. It is said that no composer before or since has exerted more influence, and no composer's output has contained such a high percentage of established masterpieces.
His Seventh Symphony was premiered in Vienna on 08 December 1813 in a concert to benefit the soldiers wounded a few months earlier in the battle of Hanau (between Austro-Bavarian forces and Napoleon's retreating army).

Giuseppi Verdi was born in October 1813 in Roncole between Piacenza and Parma in Northern Italy. He started music lessons at a young age, and, when he was twenty, moved to Milan to further his studies including attending concerts and opera. The Milan Conservatory bears his name today (almost certainly because he had been turned down there as a student.)
He was to become, and to this day is still, one of the world's most respected composers of opera. His successes include Nabucco, Rigoletto, Il Travatori, La Traviata, Aida, and some of his tunes are as popular today as they ever were.
"Un Giorno di Regno" ("A One-Day Reign" - often translated as "King for a Day") was his second opera and its failure in 1840 came close to causing Verdi to compose no more music for opera – he had been working on the comedy at a time when his two children and his wife had died.
A large ensemble of Band members played at the Gala Ball of Rotary Ireland's Annual Conference in the Titanic Quarter, Belfast on Saturday 27 September 2014 (more photos).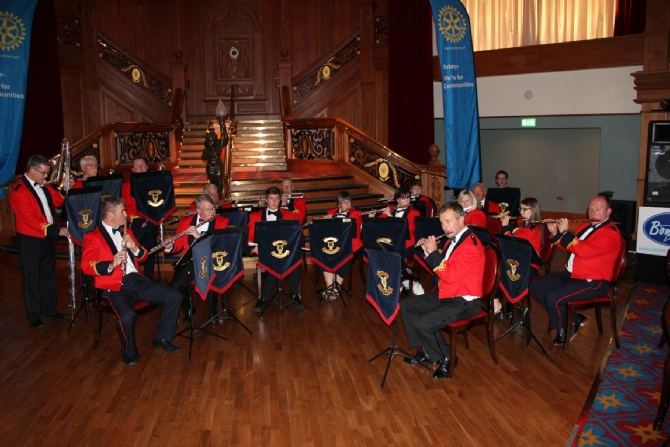 Summer Band Concerts (Ards Borough Council)
A good crowd gathered in Conway Square, Newtownards on Sunday 31 August 2014 for this concert, and our musical propgramme was well appreciated by all.
The Big Flute Challenge was held in The Kings Hall on 13 September 2014, and the Band members played a large role - more in our Photos & Trivia page
On Saturday 30 August 2014 we fulfilled an annual engagement for RBP 213. The parade was in the hill town of Rathfriland; the playing was great and the craic was mighty - pity the weather didn't match up!
The 2014 Twelfth was an emotional one for the band with the passing of our former member, loyal friend and vice-president Mr Robert McMurray. Bob's funeral service was held in Ballygowan Presbyterian Church on July 13, and it was a great privilege for the band to lead the praise and provide our own musical tribute to him. Our deepest and heartfelt sympathies are extended to Sadie, Barbara, Robert and the entire family circle. Bob was a constant companion, he never missed a contest or concert. He was well known in Banding circles including Scotland as his lovely manner made him friends everywhere he went. Life will never be the same!
There are a few 12th photos on our members page.
On Sunday evening 08 June 2014 we fulfilled a long standing engagement in First Comber Presbyterian Church. It was a praise service requested by Reverend Gordon. The service was reasonably well attended, included an interview with our Chairman Stephen, and the Band's music was very well received.
On Sunday afternoon 01 June 2014, we laid the praise at an open air service to commemorate the start of the first world war. It was organised by the Ballygowan District Community Association, held at Ballygowan Square, and was well attended by service personell past and present, the Girl's Brigade, dignitaries and the general public. Constable Robert Rea gave a brief summary of how the war began, and this was further developed by the Rev. Norman McDowell, Chaplain to Her Majesty's Forces, in his address. There was also a wreath laying ceremony, and a collection in aid of the Help for Heroes charity.
A large party from the Band, including supporters, travelled to Scotland for the Spring Contest held by the Scottish Amateur Flute Band Association - the contest itself was held in Troon Concert Hall on Saturday 17 May 2014. Two trophies were brought back to Ballygowan; third place for the test pieces and first place for the march.The adjudicator was Christina Thomson-Jones from Yorkshire, and she claimed to have had a most fantastic day of musical entertainment of the very highest standard. Adding that she had a most memorable day, she then laid out what she had been looking for; technical perfection, musical expression, colours, textures, good articulation, attention to dynamics (especially in soft passages) spine-tingling ensemble, exciting music, audience participation, and something different, and stated that she said she had heard some fantastic music.
Ballygowan played the march Hoch Heidecksburg followed by Danse Macabre (Saint-Saens), Pavanne in Blue (Huggens) and the Roman Carnival by Berlioz. The winning performance was Night on a Bare Mountain by Mussorgsky. Our conductor for the occasion was Stephen Cairns. We are very grateful for his services, and for agreeing to prepare us for our forthcoming radio recording.